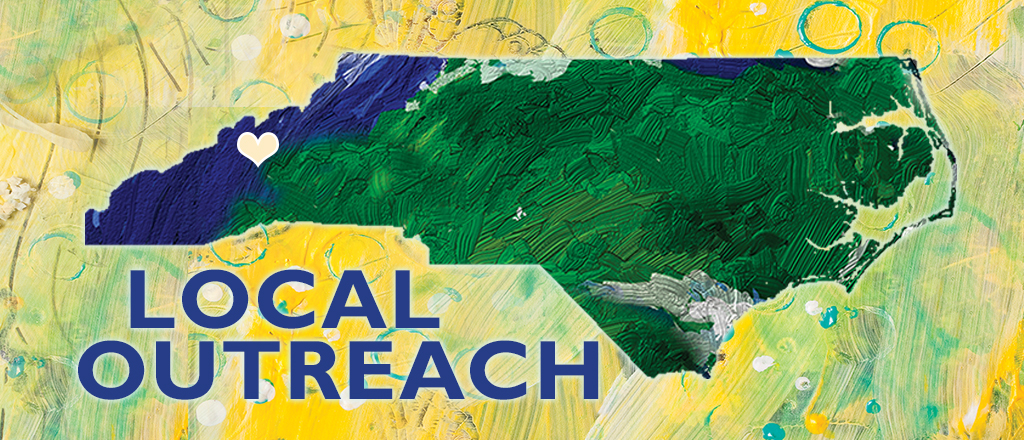 Local Outreach through Grace
We have an on-going commitment to serve our local communities. See the list below of our ministry partners. If you are interested in being a part of Local Outreach at Grace Mills River, contact Amanda McLamb, Missional Living Director, at
Are you interested in serving our communities through Local Outreach? We'd love to hear from you!
---
NON PERISHABLE FOOD ITEMS NEEDED
Feed the Need partners with Henderson County Schools to help provide supplemental food during the summer months to children who are not receiving regular meals at home. We are collecting and distributing boxes of non-perishable foods in child-friendly packaging to eight families in our neighborhood over the summer. Collection bins will be on the Children's hallways and the Information area. Volunteers are needed weekly to help with collecting, organizing and delivery of food boxes. Deliveries will begin on Wednesday, June 19th through August 21st. Spanish-speaking volunteers are also needed.
For more information contact Amanda McLamb:
Suggested Food Choices
Canned Fruit
Oatmeal Packages
Beans And Franks
Cereal
Soups
Fruit Cups
Pop Tarts
Vienna Sausage
Crackers
Pudding
Canned Stew
Chef Boyardee Items
Mac And Cheese Bowls
Raisins/Dried Fruit
---
Party in the Park: Free Community Event
Everyone is invited to attend the community-wide back-to-school event, "Party in the Park", taking place on Sunday, August 25th at Mills River Park from 4:00-6:00pm. Mills River United Methodist Church hosts this annual event, which exists to provide free school supplies to the children in local schools, provide a free dinner, offer family-friendly fun such as games, face painting and music, and educate families about the nonprofit organizations that exist in the community. If you would like to volunteer at the event, please contact Amanda McLamb, .
School Supplies Needed for Party in the Park!
Glue Sticks
Safety Scissors
#2 Pencils
Crayons (8, 16, 24 Or 36 Packs)
Colored Pencils (12, 24 Or 36 Packs)
Pencil-Top Erasers
1-Subject Spiral Bound Notebooks
Composition Notebooks
Wide-Ruled Notebook Paper
Collection bins will be located in the Café and children's halls August 4 - 18.