Our call is to bring grace to both the church and the world because we know that grace is for both the believer and the unbeliever.
Upcoming Missions Opportunities:
Holiday Market
Support Grace Local Outreach & Global Missions on Sunday, November 3 during our Holiday Market! Local and global organizations will sell items with 100% of the sales supporting their particular partner organization. Perfect for Christmas or birthday gifts!
This year, our vendors include:
Least of These Asheville, Selling hats & t-shirts
Isingomas, Grace Missionaries serving in Uganda, Selling hand-made jewelry, baskets & art from Uganda
Safelight, Selling handmade items such as table cloths, napkins, handkerchiefs made by ladies in their training program
Knickers for New Life, Asante Scents for a Cause
Honduras Fountain of Life, artwork created by the girls' orphanage
---

Honduras Mission Trips
Help deliver Christmas presents to an orphanage in Honduras! Honduras Fountain of Life Christmas Trip: December 26 - January 1. Approximate cost: $1150. Please visit www.hondurasfountainoflife.org to learn more about this ministry or contact Jim Pearce, .
---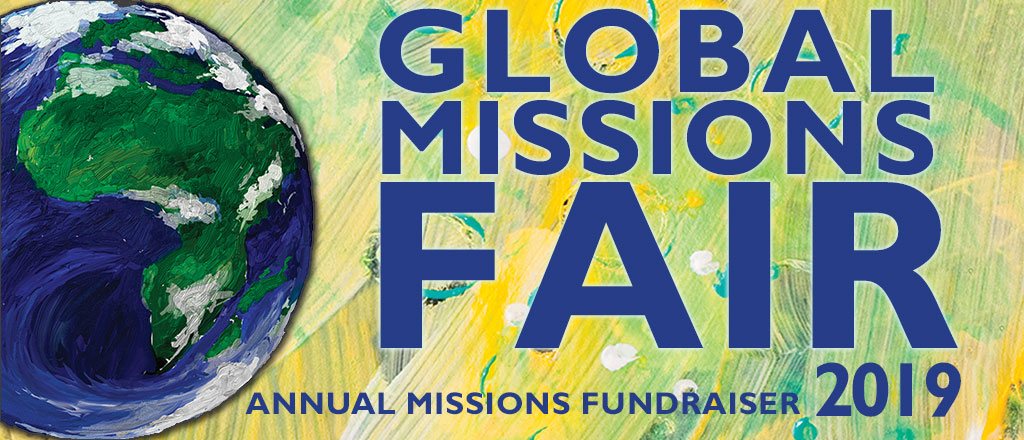 THANK YOU For Supporting the Annual Global Missions Fair!
Thank you for your participation, prayers and financial support of the 2019 Global Missions Fair! We are grateful to share that over $16,000 was raised over the two weekends of the fair through your generous giving!
Each year the Global Missions Team hosts a fair and several other events to share the impact of Grace missionaries around the world. It is also the one time during the year that we raise funds for our Global Missions. This year we were excited to have a few of our missionaries with us in person: Yobani Alas (Honduras Fountain of Life), Anne Kieser (Serge), Scott Rayl (Wycliffe) and Chip Jones (Serge)!
On Sundays, September 15 & 22, the Global Missions Fair was set up in the gallery before or after services where several of our missionaries and organizations shared about their work and connected personally with GMR. Grace Missionaries Ann Kieser (Serge, Uganda) and Scott Rayl (Wycliffe, Africa) briefly shared updates with the congregation during both worship services.
Saturday, September 21, HFoL Alumni had a special dinner out with Pastor Yobani & Dariela Alas at Elena's Mexican restaurant.
On Sunday, September 22, Yobani Alas, Grace Missionary Pastor from Honduras, preached both services with the assistance of Alex VanDalen translating. That was followed by "A Taste of Global Cuisine," hosted by the Global Missions Team, where Chip Jones (Chile), Scott Rayl (Nigeria), Ann Kieser (Uganda) and Pastor Yobani (Honduras) shared updates about their work around the world.
Thank you for supporting Grace Global Missions! Please continue to pray for missionaries and their work in sharing the gospel!
---
Thank you to all who supported our Global Missions Fair 2018. Read more about the 2018 Special Projects report here.
---
About Global Missions at Grace
Our call is to bring grace to both the church and the world because we know that grace is for both the believer and the unbeliever.
We believe that in Christ all national and cultural divisions can be overcome and will one day disappear. Since we believe we are one in Christ and that all are equally valuable before God, in our mission work we represent Christ and His kingdom, not America or evangelical western sub-culture. Christ's incarnation is our pattern - we leave our 'heaven' to enter another world. Though we may never leave our culture completely, we can value others and work for unity in Christ. We cannot compromise the core message of the gospel, but we are called to translate that into the new cultures God calls us into.
Relationships are central to our calling, to the way we work together with others in missions, and to those we seek to draw to faith. Relationships are a tangible way we express the love that comes from our faith. In mission work we are committed to loving others by working in teams, sharing ministry with other denominations and boards as an expression of our unity in Christ and building partnerships with indigenous leaders where we work as students, peers and servant leaders to strengthen local works.
Missions is done in many ways with many strategies. Often mission workers, national pastors, and boards tend to 'compete' for affection and money by claiming that their way is best, exclusive or is what God is currently doing. Grace is committed to a unified rather than a competitive approach. Grace supports short-term workers, missionaries, boards and national pastors/workers. We believe that mission work can best be done when each kind of effort cooperates with each other and ideally has some functional and supportive relationship.
Join the Grace Missions Team
As We Touch People's Lives...
Through Praying, Giving, and Going
This team…Your team… has been touching people's lives around the world in some incredible ways:
Bringing People to Christ
Helping create multiple church plants and discipleship programs.

Building Relationships Across Cultures
Connecting with locals using culturally appropriate art, music and literature to build lasting relationships.

Supporting Christian-Based Education in Schools
Helping to build schools and provide tuition and supplies for students in Honduras and Uganda.

Missionary Apprentice Program (MAP)
Supporting this SERGE program designed to train and prepare apprentice missionaries. (Visit serge.org to learn more about their MAP program)
If you have questions or interest in Grace Missions, please contact Amanda McLamb at
Meet Our Global Missionaries